EbixEnterprise for Group Health is a holistic insurance system featuring end-to-end processing and a common database. It can easily integrate with existing standalone processing applications and can be customized for any organization.
Benefits
EbixEnterprise provides full support for all Product Lines. Its flexibility makes it the ideal choice for individual and group accounting, billing, and eligibility for Health and P&C policy admin carriers. EbixEnterprise also:
Allows immediate access to information for internal and external users.
Eliminates the need to integrate multiple standalone applications.
Accelerates the system implementation process.
Supports vendor's hierarchies to reflect reporting requirements.
Centralizes support.
Decreases time-to-market for new products.
Quickens training with a common user interface.
Features
Each market, company and client is different; this is why EbixEnterprise is designed to be flexible for each carrier with the technology and functionality to administer ALL of their products. Features include:
Policy Administration – Multiple LOB
Group/Individual – Flexible Hierarchies
Vendor/Broker/Agency – Flexible Hierarchies
Rules-based and workflow driven system
Flexible rating system for handling complex premium rate formulas
Multi-company processing.
Drill-back to the transaction source.
Attach pictures, images, video and audio.
Every original document is captured as PDF and automatically attached to any record.
Print on-demand, in batch, or through a third-party print/mail service.
Connection to industry scoring databases from third party providers during quote.
Easy communication with key contacts (policyholders, agents, etc.) through email, fax or hardcopy.
Create "straight-through" processing rules for policy issuance and claims.
System access across multiple functions not possible through multi-vendor standalone applications.
Provide secured access to agents, policyholders, or anyone in the field who needs it.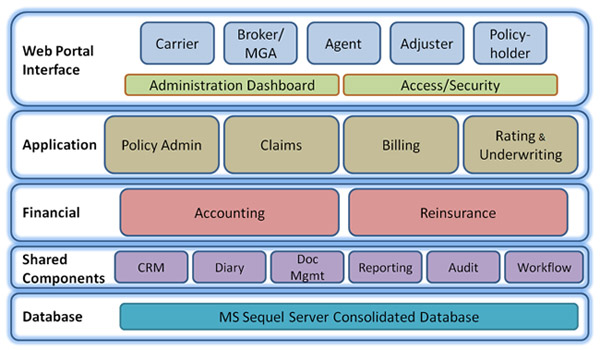 Customer Satisfaction
Our Clients are some of the most satisfied in the industry with their Insurance Processing System. Novarica's ACE Ranking, based on Average Customer Experience, was the highest score in the Policy Administration Category, earning Ebix a RAVE Award. The score of 96 was the highest in the history of ACE Rankings in that category.