American No. 1 John Isner to Host The Ebix Annual Charity Event Featuring The Bryan Brothers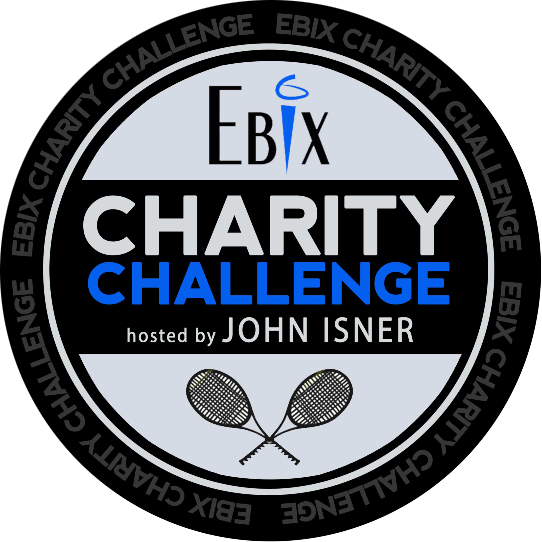 ATLANTA, GA - January 9, 2015 – Ebix, Inc. (NASDAQ: EBIX), a leading international supplier of On-Demand software and E-commerce services to the insurance, financial and healthcare industries, today announced that the annual Ebix Charity Challenge,will be held in Greensboro, North Carolina on February 7, 2015. All proceeds from the 5th Annual Ebix Charity Challenge will benefit the UNC Lineberger Comprehensive Cancer Center,where America No. 1 John Isner's mother, Karen, was successfully treated during her two battles with colon cancer.
Joining Isner will be the ATP World No. 1 Doubles team of Bob and Mike Bryan. The Bryan Brothers are coming off a historic 2014 season after finishing No. 1 in the year end rankings for the 10th time in their careers.The Bryans won 10 tournaments this past season, including the US Open,ATP World Tour Finals and six ATP Masters 1000 titles.The twins further solidified their place as the greatest doubles team in tennis history after winning their 16thcareer Grand Slam title andgroundbreaking 100thcareer team title at the 2014 US Open.Wayne Bryan, the father and former coach of the Bryan Brothers, will serve as the event emcee.
The event will kick-off with an exclusive youth clinic at Piedmont Indoor Tennis Center, giving kids the once-in-a-lifetime chance to play and learn from Isner and the Bryan Brothers. Following the clinic,a tennis exhibition will be held at Fleming Gymnasium on the University of North Carolina at Greensboro campus.
John Isner said, "I am really looking forward to bringing the Ebix Charity Challenge back to my hometown of Greensboro. Our last challenge was our best event yet and I hope we can build upon last year's success. I am also thrilled Bob and Mike will join me in Greensboro. I hope we can put on a great show for everyone and raise money for UNC Lineberger, which is a cause very close to my heart."
Robin Raina, Chairman and CEO of Ebix said, "Ebix is excited to support John's 5th Annual Ebix Charity Challenge. As our brand ambassador, we are proud of John's continued passion to fight cancer by raising funds for cancer research at UNC Lineberger Cancer Center."
UNC Lineberger was nominated by Isner and is one of nine charities around the world to receive a 2014 ATP Aces for Charity grant. Donations can be made online at www.crowdrise.com/JohnIsner.
Isner is kicking off his 2015 season representing the United States at the Hopman Cup, an international mixed team event in Perth, Australia. Isner and partner Serena Williams advanced to Saturday's championship match on Thursday with a 3-0 sweep of the Czech Republic. Currently ranked no. 18, Isner had a solid 2014 season after compiling 39 match wins and capturing his eighth and ninth career ATP World Tour singles titles in Auckland and Atlanta respectively. His Atlanta title run propelledIsner to his second straight Runner-Up finish in the prestigious Emirates Airline US Open Series. Isner's career accolades also include reaching the Quarterfinals of the 2012 London Olympics, leading the U.S. to the 2012 Davis Cup Semifinals and winning the longest match in tennis history 70-68 in the fifth set over Nicholas Mahut at Wimbledon in 2010.
About the Event
Tickets start at $20 while exclusive VIP packages and youth clinic spots for the 5th Annual Ebix Charity Challenge hosted by John Isner are all on sale at www.isnercharitychallenge.com.For information regarding sponsorship packages please contact Cameron Thaney atcthaney@lagardere-unlimited.com.
About UNC Lineberger
One of only 41 NCI-designated comprehensive cancer centers, UNC Lineberger Comprehensive Cancer Center brings together some of the most exceptional physicians and scientists in the country to investigate and improve the prevention, early detection and treatment of cancer. With research that spans the spectrum from the laboratory to the bedside to the community, UNC Lineberger faculty work to understand the causes of cancer at the genetic and environmental levels, to conduct groundbreaking laboratory research, and to translate findings into pioneering and innovative clinical trials. For more information, please visit www.unclineberger.org.
About Ebix, Inc.
A leading international supplier of On-Demand software and E-commerce services to the insurance, financial and healthcare industries, Ebix, Inc., (NASDAQ: EBIX) provides end-to-end solutions ranging from infrastructure exchanges, carrier systems, agency systems and BPO services to custom software development for all entities involved in the insurance industry.
With 40+ offices across Brazil, Singapore, Australia, the US, New Zealand, the UK, India and Canada, Ebix powers multiple exchanges across the world in the field of life, annuity, health and property & casualty insurance while conducting in excess of $100 billion in insurance and re-insurance premiums on its platforms. Through its various SaaS-based software platforms, Ebix employs hundreds of insurance and technology professionals to provide products, support and consultancy to thousands of customers on six continents. For more information, visit the Company's website at www.ebix.com.
Contact:
Katie Shuford, Edelman – 404-443-7399 or Katie.Shuford@edelman.com
Aaron Tikkoo, Ebix – 678-281-2027 or atikkoo@ebix.com
Cameron Thaney, Lagardere Unlimited - 202-721-7230 or cthaney@lagardere-unlimited.com