Ebix Consulting's Crosstrio Media Center is a best-in-class Asset Management System used to easily upload, organize, store, access, retrieve and distribute all of your digital assets in a secure central repository.
Crosstrio Media Center gives content creators an easy and fast access to digital elements and helps complete digital communications for effective print and electronic communications.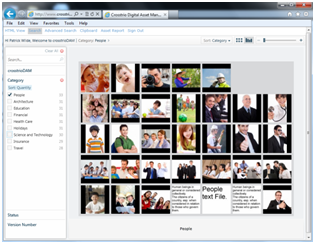 Ebix Consulting has a rich experience in the organization of workflows, and distribution of digital assets and digital rights management for Marketing and Corporate Communications departments across a multitude of industries.
Our core content management engine drives various aspects of the repository, such as administration, workflow, content loading, and security, publishing, and reporting. Our distribution engine, specific to the end user's needs, delivers the data in the desired format.
Crosstrio Media Center is scalable from a quick and easy deployment with the use of our proven implementation methodology.
With Crosstrio Media Connect, assets stored in Crosstrio Media Center or from your existing CMS or DAM are automatically retrieved in real-time for your users as they compose variable communications in Crosstrio Media Center. This saves search and retrieval time, asset duplication and ensures that the current and correct asset is being used for brand control and compliance.
Ebix Consulting's Crosstrio Media Center also has the ability to deliver content in a personalized, multi-lingual and on-demand format. Custom modules can be added to enhance the services of the repository, such as custom billing, custom reporting and storage management.
Features
Upload, organize, store, access, retrieve and distribute assets
Configurable metadata structure
Up to 180 metadata fields can be configured
Access permissions configurable by Group
User Management with group membership(s) assignment
Configurable localization
Bulk asset uploading
Store all content types including text, logos, images, video, audio
Supports Asset file drag and drop
On demand image renditioning
Keyword and Extensible Metadata Search
Edit, Lock, Clone, Move, Add to Lightbox, Delete and Download Functions
Asset Versioning
Asset Reporting including page level analytics
Lightbox management for Asset sharing
User feedback and problem tracking
Real-time asset consumption and publishing
Cloud-based or on premises hosting
Multi-tenant configurable theme management supported
Benefits
Improved efficiencies and reduced costs

Reduces steps in workflow processes
Eliminates repetitive and duplicate tasks
Streamlines collaboration review and content approval processes
Enforces standards compliance
Streamlines distribution

Increased revenues

Gain speed-to-market
Speed and coordination in the creation, approval and distribution of content
Preserves digital content
Protects intellectual property
Customers across vertical industries are enjoying the efficiencies, increased revenues and brand control by utilizing Ebix Consulting's Crosstrio Media Center solution.