Ebix Smartclass Educational aims to redefine 21st century education with a focus on understanding the present and future education barriers and evolving innovative solutions to address them. The company has a strong vision of improving the teaching-learning experience in schools. Ebix Smartclass Educational is engaged in the business of developing education products and providing end-to-end solutions to K-12 Schools. It promotes new modes of learning for the digital natives and develops path breaking products and solutions, keeping in mind the learning styles of the new-age learners.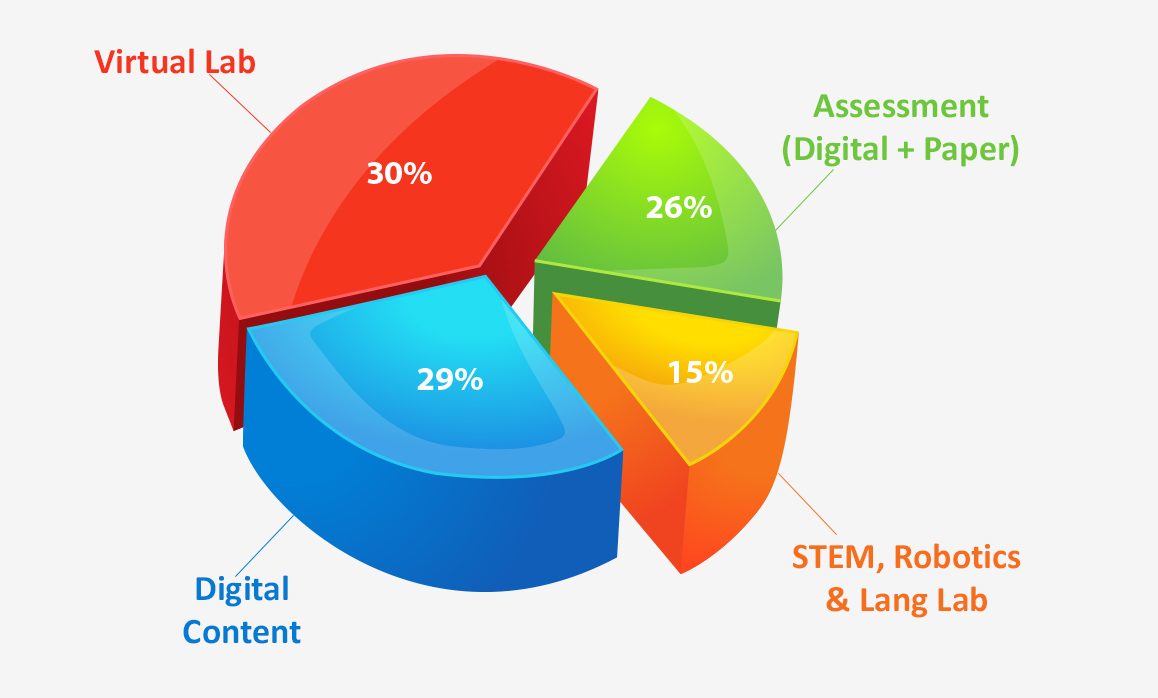 With a reach of 60,000+ classrooms and a base of 5,000+ customers, Ebix Smartclass Educational impacts the learning outcomes and needs of over 2.5 million K-12 students. With backgrounds in business development, R&D, and customer engagement, our team of 1000+ professionals strives to provide a high level of customer satisfaction. We have a high C-SAT score of 92% in the country, because we believe that the customer is at the heart of everything that we do.
As the education industry experiences a transformative phase, Ebix Smartclass Educational is devoted to putting in unflinching efforts to make learning a fascinating and engaging experience for the rising generation. Our R&D team of 135+ professionals including the extended team is constantly working to bring innovative products and solutions for the school segment. The products are categorized into four segments – Assessments, Virtual Labs, STEM, Robotics & Lang Lab, and Digital content.
Assessments
Our products are designed to improve the learning outcomes and grades of students in their exams. The digital and paper-based assessments help students in focusing on the concepts that they are weak in. Our product, n-CAT, is a futuristic assessment solution in partnership with Edulabs Kyoshi of Japan, a leading provider of diagnostic assessments. The adaptive assessment solution helps students identify their focus areas by providing them a list of concepts, where they did not score well in the n-CAT assessment test.
Virtual Labs
Another product segment that provides the students real-life experience is virtual labs. Our partner products Yenka and Crocodile provide simulations and activities that help students in understanding concepts and their application in real life. Teachers use the 3D visualization capabilities of these products to explain abstract concepts to students and bring it to life.
Digital Content
The third segment of our product includes digital content repository of rich-media content across grades K-12, mapped to meet the specific objectives laid out by the central and state boards across the country. In addition to the rich-media content developed by our R&D team, it includes aggregated content from other partners such as Educomp, Bodhaguru, and Designmate.
STEM, Robotics & Language Lab
In order to succeed in the new information-based and technology-driven world, students need to develop their capabilities in Science, Technology, Engineering, and Math (STEM) from an early age. The product segment of STEM, Robotics, and Language Lab—smartstem, Computational Thinking & Innovation Lab (smartCTILab), and English Forever—provide an environment to students where they can learn by experimenting, discovering, thinking, and collaborating. Smartstem in partnership with Designmate brings joy and interest in Math and Science classrooms with its engaging videos and simulations.
The smartCTILab curriculum is a futuristic curriculum designed to bring innovation, creativity, and problem-solving skills into computer labs and classrooms by engaging and involving the student at every step. The curriculum familiarizes students to the 21st century technologies such as the fundamentals of Computer Science, Robotics, Creativity, Problem-solving skills, which are based on Computational Thinking (CT) skills. CT is a problem solving process that is essential to the development of computer applications, but it can also be used to support problem solving across all disciplines, including Math, Science, and Humanities.
Our English-training solution, English Forever, is designed for improving language skills of students keeping in mind the education requirements of learners from every grade. English is the second language (ESL) for most Indian students, and thus the desired levels of proficiency can only be acquired with constant and consistent practice, and under able tutelage. Learning English—as a second language—requires a different approach and a greater focus on the part of the students for success in school tests as well as competitive exams. English Forever marries sound pedagogy with smart technology to bridge the gap between learning requirements and resources at hand. With a focus on improving the listening and speaking skills of the students, the product can be used in a combination of classroom and lab environment. The product also provides interactivities on grammar so that the understanding of the language and its fundamentals get imbibed in a fun and interesting environment. Our constant endeavor is to innovate and use technology to create a tangible experience for students to learn difficult theoretical concepts, thereby mitigating teachers' herculean efforts.