Overview
It takes insurance companies weeks, sometimes months, to underwrite a policy. Much of the information is collected through traditional faxes and mail. Information is entered into multiple systems, multiple times, making the process redundant and exposed to errors. An underwriter often has to rely on third party data sources like the MIB, MVR, APS/Paramed, and Inspection Companies to make decisions. Planet Interact addresses the challenge by providing a framework that can cohesively tighten the process by collecting data through web-based interfaces, intelligently routing workflow based on business rules, and connecting internal and external systems.
How it Works
The Policy Processor™ is the industry's most advanced and comprehensive new business processing and underwriting system for life insurance. TPP accommodates all life insurance products, across all distribution channels. The application is integrated with a heterogeneous mix of on-house and third party systems. The information is collected from both the end-customer and agent through web-based e-forms, as well as from external data sources for background checks. TPP provides a means of straight through processing of underwriting information for medically underwritten as well as jet underwritten cases.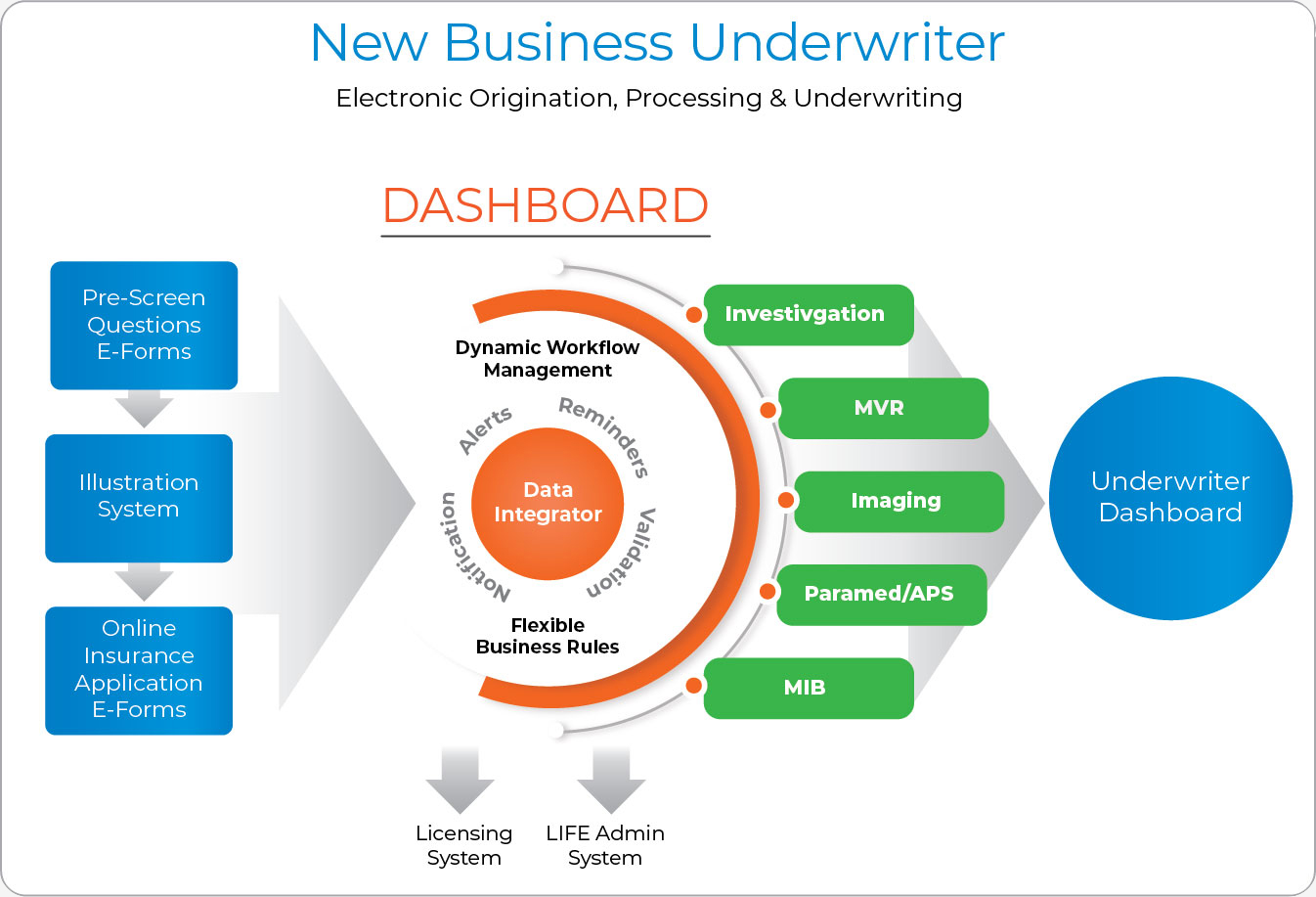 Key Features of the Product Include:
Electronic front-end for capturing application data.
Case Management dashboard.
Agent licensing and appointment verification.
Electronic ordering and receipt of requirements.
Integration with imaging technology for document management.
Workflow management and configuration.
Cash management and reconciliation.
Established and integrated network of third-party data and service providers, including:

MIB
APS
MVR
Outsourced underwriters
Lab/Parameds
Tele-underwriters/Outsourced inspection
Underwriting dashboard for case assessment and decision.
Re-insurance routing and monitoring.
Dynamic and configurable communication modules including emails and document correspondence.
Table-driven management of underwriting and administrative requirements.
Automatic determination and population of state form requirements.
Support for ACORD XMLife Standards.
Wizard-based administrative interface to configure new products.
Collaborative Processing Hub
The Policy Processor™ forms a collaborative network hub, connecting organizations, systems, and people in the new business processing service chain. The underwriting and new business processing departments have to work collaboratively with several departments within the company, as well as with outside vendors and agents in the field. With the TPP, the ecosystem is connected, making it possible for seamless, accurate, and expeditious processing of new business cases.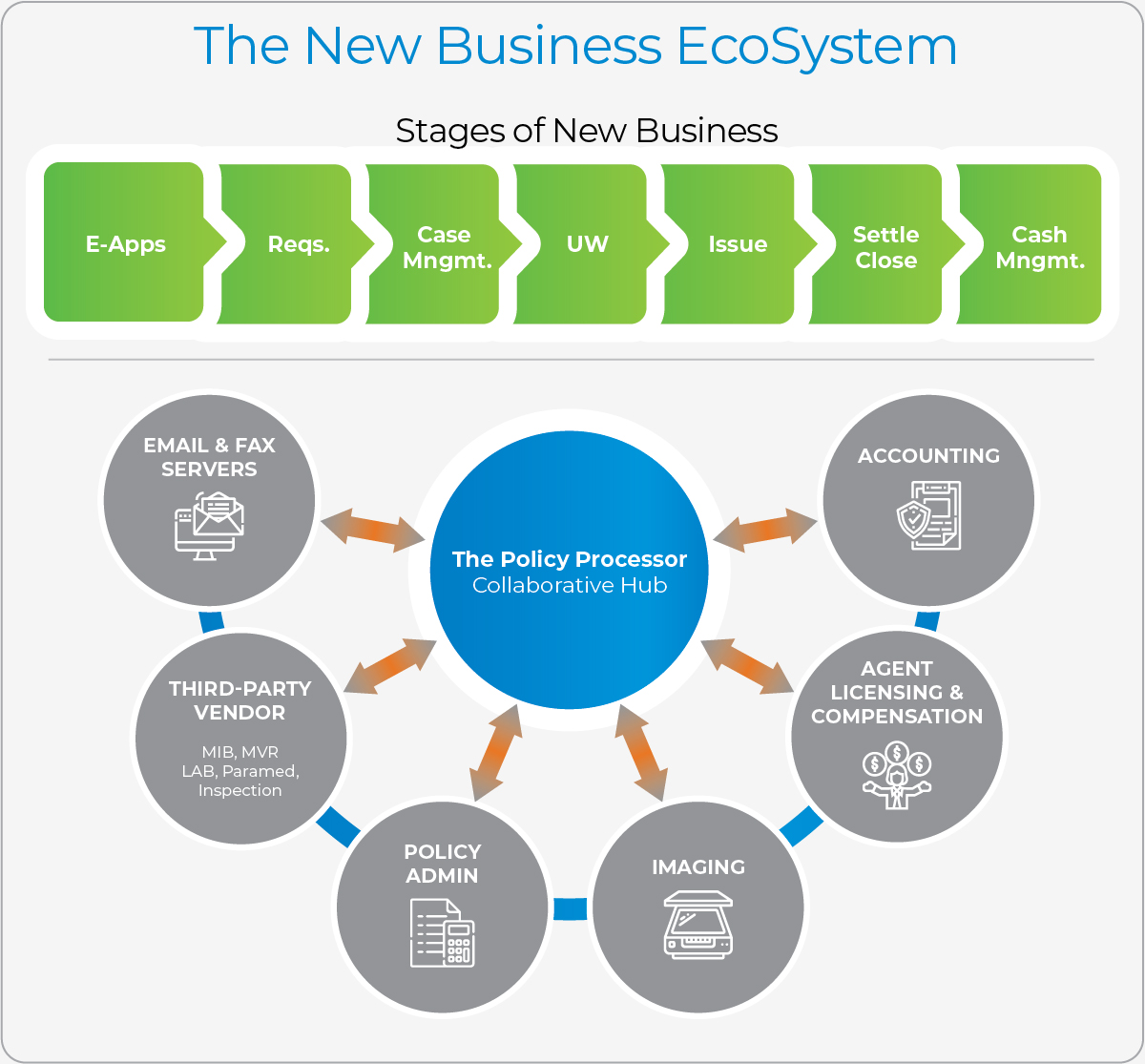 Within an organization, The Policy Processor™ enables data to traverse on demand through various departments - creating a seamless and connected ecosystem.
The Policy Processor
A fully integrated solution, allowing data to traverse on-demand through the ecosystem.
Policy Administration Service
Review requests for policy changes, such as change in coverage, to re-evaluate risk.
Coordinate with the policy administration services for reinstatement requests, evidence of insurability and changes in health condition.
Transfer of documents upon case approval to enable the policy-issuing unit to issue, settle and close a case.
Answer queries related to coverage, ricers, or other contract-related issues.
Claim Administration
Collaborate on special claims, such as those made during the policy contestable period.
Re-evaluate risk in instances where the claims department finds misrepresentations on original applications of claimants.
Actuaries
Develop underwriting guidelings and risk classifications.
Determine effectiveness of underwriting guidelines and suggest changes.
Provide feedback for new product development and better risk management.
Agency Systems
Check status of agent licensing, appoinments and contracting upon receipt of new cases.
Update compensation system with commission information on each case.
Agent / Field
Provide status on applications.
Receive clarification on application data.
Answer questions regarding underwriting decision and rating criteria.
Negotiate to reach an agreement, balancing the need to make a sale and avoid unnecessary risk exposure.
New Product Development
Provide feedback on underwriting guidelines.
Collabration on product design feature.
Relate field information on competitive positioning of product.
Accounting
Post cash received with the application.
Provide daily cash reconcilliation of payments applied or any reversals, refunds, or transfers.
The TPP eApp
TPP's eApp is a single solution designed to help carriers build rich, interactive and intelligent electronic applications for Agents/Advisors, Consumers and Call Center operations--backed by the depth and breadth of Ebix's 15+ years of experience in automated electronic applications.
eApp Features
Allows carriers to quickly deploy formal/informal applications for all lines of businesses (i.e. Life, Annuities and Health products).
Offers a broad range of features that include responsive design, a customized process flow/user experience, company branding/themes and quoting/sales illustration capabilities if needed.
Integrated sales experience to support prefill with a carrier's CRM or admin system data to reduce data entry and can be extended to support a comprehensive needs analysis (i.e. tobacco use, product, coverage and risk class recommendations and more).
Support medical and non-medical (e.g. lifestyle) questionnaire collected via an agent, fulfillment or consumer.
Connectivity with a wide range of evidence providers, eSignature vendors, underwriting rules engine to support for point-of-sale decision and other proprietary or third party services (e.g. licensing and appointment, policy admin, ID/address verification).
The system provides plug-ins to support A/B testing (bucket tests or split-run testing) that allows carriers to collect real-time metrics and data to help drive product and user experience design, operational reporting and advanced analytics.
Supports disconnect and mirroring capabilities that allow call center operations to offer real-time assistance.
Can support a private exchange (multi-carrier) to better manage informal to formal processes and suitability/compliance oversight in a multi-distributor multi-carrier setting.