Ebix' "Ask A Doctor" service gives quick and easy access to doctors, anytime, anywhere.14,000 healthcare questions are answered each day by our global network of more than 33,000 physicians from more than 50 specialties. Ask A Doctor is now the largest website in the world where people can get fast answers to medical questions around the clock. Users are always connected on their mobile devices, tablets and PCs. Being HIPAA compliant, questions and answers are secure and confidential. Ask A Doctor is a valued perk often provided as part of an employee benefits package.
To learn more about Ask A Doctor, please contact us at 1-800-755-ADAM or via email at consumerhealthsales@ebix.com
It's Fast and Easy
Using our Ask A Doctor service, users can send a question to a physician, and physicians will reply within minutes. It's like having an email exchange with a private doctor!
As soon as a user posts a question, a qualified doctor will start answering it. The doctor will provide the user all the medical information they need, and will guide them as they choose a course of action—all from the comfort of the user's home or office. No more sitting in the waiting room for hours; no more self-diagnosing after reading pages of confusing and contradictory online information. Ask A Doctor gives employees the personalized health information they need to decide on the right treatment for THEM!
Ask A Specialist
Sometimes it can take months to get an appointment with a cardiologist, oncologist, urologist, or any other highly qualified specialist. With Ask A Specialist, users can quickly get a reply or even ask for a second opinion on a serious health matter in minutes in one of more than 50 fields of medicine.
Health Resources
Ask A Doctor is integrated with our A.D.A.M. Consumer Health content. This unbiased, peer-reviewed content is written at a 6th to 8th grade reading level, providing a comprehensive health resource that is easy for everyone to understand. A.D.A.M. Consumer Health content includes:
Medical Reference Library
Health Calculators
Health Risk Assessment
In-Depth Reports
Complementary & Alternative Medicine
Learning Modules
Learn More About Ask A Doctor at www.HealthCareMagic.com
Ask A Doctor Strategic Partnerships
Ask A Doctor offers four distinct strategic programs designed to meet the needs of our partners. Whether you're a major consumer portal, employer looking for partnership opportunities, or an academic institution seeking a trusted medical resource, our partnership programs can help you achieve your business objectives.
Why Participate in an Ask A Doctor Strategic Partnership?
Empower members to make more informed decisions
Provide valued personalized medical advice, 24/7/365
Minimize use of costly procedures and services
Provide access to members all over the world
Access doctors anytime on mobile devices, tables and computers
Improve member engagement, satisfaction, retention and reduce absenteeism
Educate members with A.D.A.M.'s award-winning content
Ask A Doctor Revenue Sharing Partners: Designed for major consumer portals and employers to offer a value-added service to their customers or employees by simply adding a link to Ask A Doctor on their websites without making a financial investment. Partners receive a monthly utilization report showing traffic and revenue generated from their website/portal. Partners receive a 15% payment of all revenue generated.

Ask A Doctor Global Network Portal Partners: This is for employers or large academic institutions who provide access to Ask A Doctor's Health and Wellness Portal and Health Resources at no cost to their users to help reduce unnecessary utilization of procedures and services and improve member health and retention.

Ask A Doctor Private Network Portal Partners: This program is designed for integrated delivery networks or IDNs, large academic institutions and health plans. Partners provide access on their website to the Ask A Doctor Health and Wellness Portal. The Ask A Doctor network will ONLY include the partner's physicians and specialists. Our global network will be "switched" on as determined by the partner (after hours, etc.). The portal and app are branded with the partner's logo and colors. Users can download the branded mobile app or access the portal on the website for free. Partners receive a monthly utilization report.

Ask A Doctor Physician Association Partners: Ask A Doctor's Association Partners program is designed for physician associations that would like to attract and retain members by partnering with A.D.A.M. to increase their global reach to patients, provide patients and populations with access to excellent healthcare, generate revenue for both the member physician and association, and pave the path towards telemedicine. The portal and app are branded with the association's logo and colors. The Association Partner Program will help to:
Attract and retain physician association members by implementing innovative tools
Help doctors drive revenue to their local practices through the private network
Robust community service, outreach and recognition
Revenue generation for the physician and the association
Physician associations may also participate in an executive leadership and guidance role with A.D.A.M. to help define telemedicine solutions and evolution. In exchange, A.D.A.M. will allocate the following resources:
Administrative and marketing support
Project and product management
Dedicated national account manager
Quarterly reports and software updates
Program administration and reconciliation
Tiered approach to join, sign-on, medical advice and partnership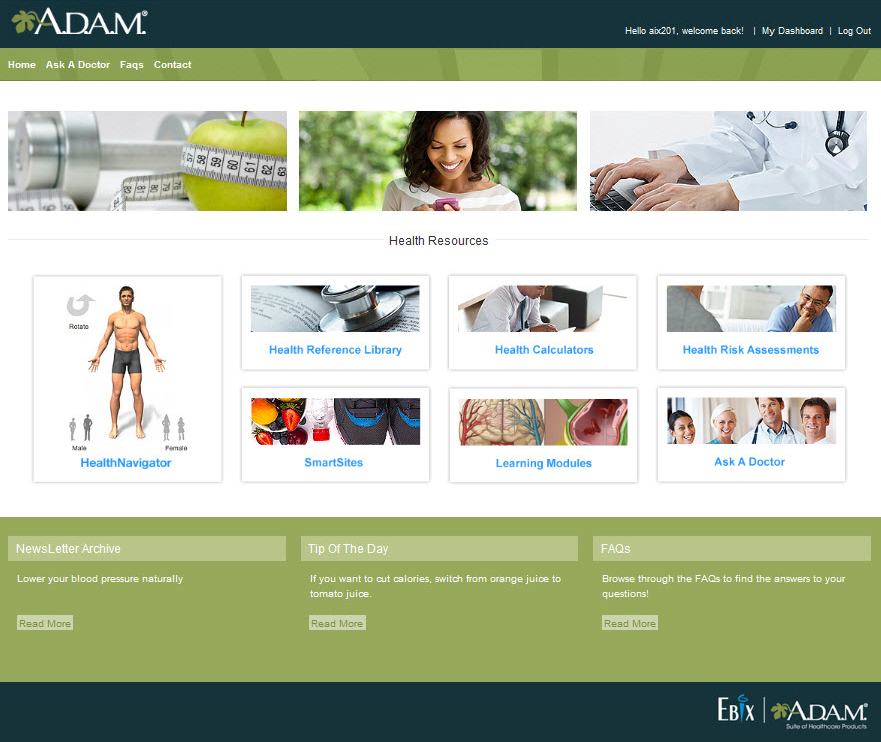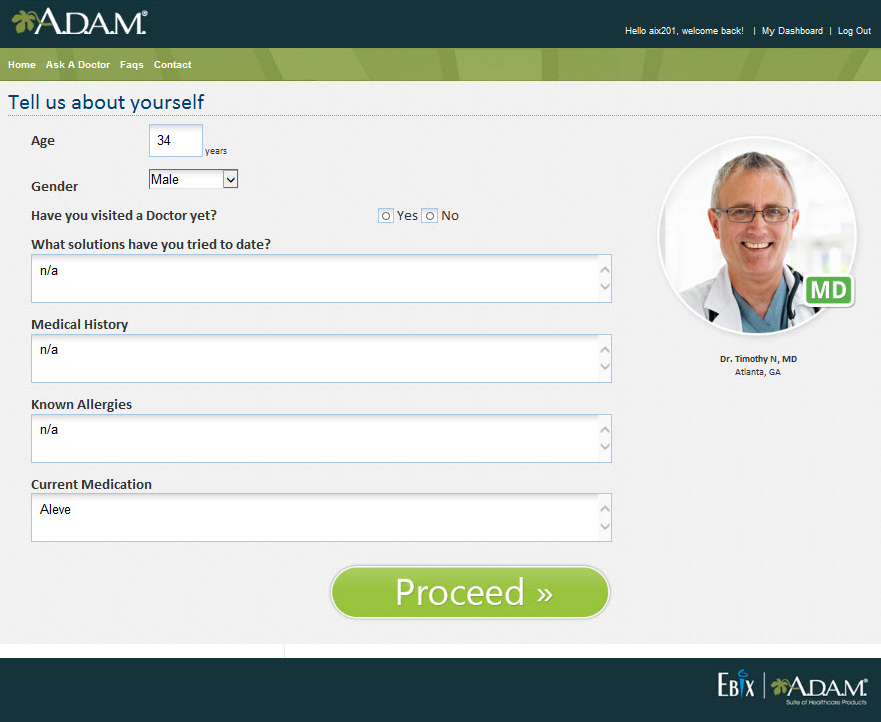 For a free demo of any of the Ask A Doctor strategic partnerships, please contact us at 1-800-755-ADAM or via email at consumerhealthsales@ebix.com