Tackling the Triple Threat
Chronic Employee absenteeism, presenteeism and voluntary turnover are crippling the productivity of America's organizations.
The indirect costs of these three threats include:
Poor productivity
Inconsistent customer service
Weakening of a company's brand - a big red flag in this dynamic competitive business landscape
Bottom line? It's becoming much harder for companies to stay afloat.
Estimated Costs
Pulled from a study by the U.S. Bureau of Labor Statistics, below are the estimated actual costs associated with absenteeism, presenteeism and voluntary turnover based on the following criteria:
| | |
| --- | --- |
| Company size | 1,000 |
| employees Annual Turnover | 11% |
| Average Annual Salary | $41,520 |
Total Productivity Loss was $11,250,800 (27% of payroll) due to:
Absenteeism
$2,834,000
Presenteeism
$1,566,000
Voluntary Turnover
$6,850,800
(inclusive of agency fees, management time, advertising, HR overhead, training and onboarding)
U.S. employers are also dealing with a shallow and swiftly drained candidate pool. The numbers below represent the highest and longest in recent history:
| | |
| --- | --- |
| Number of open jobs | 6.1 Million |
| Time to fill jobs | 30 days |
The New Workforce
From a recruitment perspective, workers now demand different requirements when considering opportunities and employers. Their focus is not just on traditional benefits. Many applicants now consider the cultural environment of prospective companies to be equally important. They shop for employers who consistently demonstrate commitment to and investment in their employees.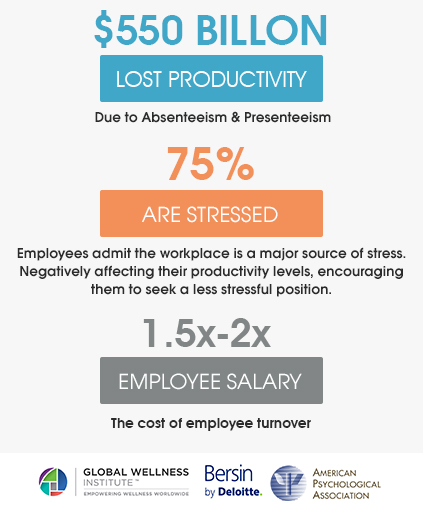 Employee retention perspective: As the chart to the right indicates, 75% of the U.S. workforce is stressed and actively looking for new employment that offers more balance. These days, they don't have to look far. Key personnel are finding unsolicited job offers in their work and personal inboxes each day.
So what can EBAW do to help you mitigate these issues and build a strong, productive workforce?
EBAW Promotes Retention and Engagement
The EBAW platform has all of "the pieces of the puzzle" that you need to simplify your Benefits Administration and Employee Wellness programs.
And - in the process - vastly improve the strength of your corporate communications.
Designed by Ebix, the EBAW platform provides:
Tools that reduce absenteeism, presenteeism, and voluntary turnover.
Access by employees and their families to meaningful, credible and timely benefit information when and where they need it - on any device.
Options that demonstrate employer commitment to employees, such as:
Total Compensation statements that clearly define the overall commitment the employer has for each employee.
Communication tools to enhance brand, community and awareness.
Access to tools for guidance on medical procedures, costs and service locations.
The components of the EBAW platform can be used independently or in harmony with any of the other pieces.
They speak to all the players in the benefits administration and wellness mix - the employer, the employees (and their families) and the broker.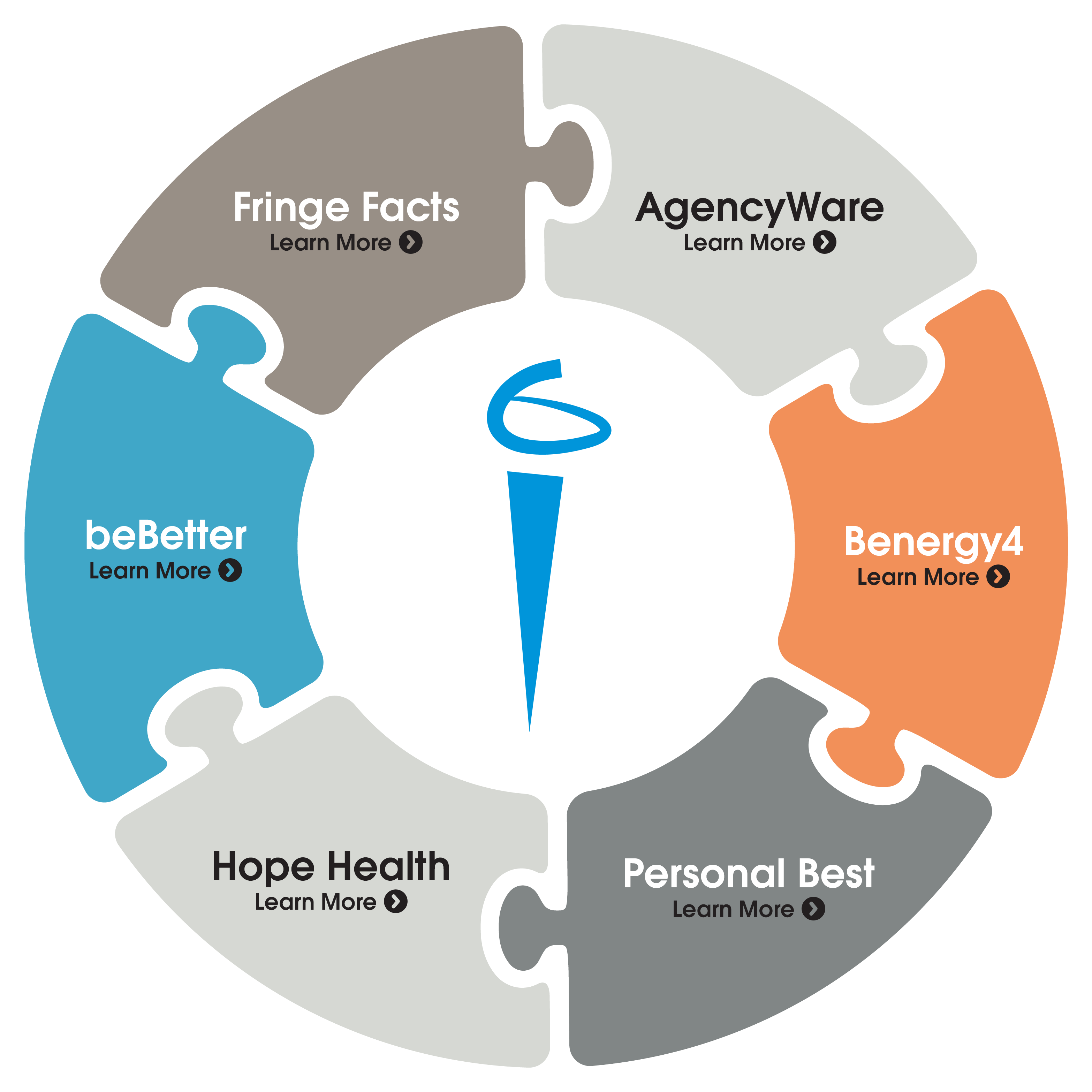 Benefits Administration Components
AgencyWare
Enables brokers to provide benefit packages customized to your organization's specific needs.
Benergy4
Customizable communications, plan enrollment, financial calculators and access to countless health and wellness resources.
Fringe Facts
Communicating to employers and employees the investment their employer has in them by outlining their medical, retirement and other benefits.
Wellness Components
Why emphasize wellness with benefits administration? Today more than ever organizations are faced with the challenge of retaining strong, committed employees. A supportive work culture - one that enhances engagement and productivity seamlessly from the workplace to the home - knocks that challenge down to size.
Personal Best & Hope Health
Print and online wellness content for the whole family, motivating positive lifestyle choices.
beBetter
Wellness packages with coaching, health risk assessments, fun, engaging wellness challenges and more. All easily integrated with personal tracking devices.
All of this is available anytime, anywhere and on any device when you use the EBAW platform.
The EBAW Goal: Programs and services tailored to meet your corporate needs and build a cultural experience meaningful to your employees.