Learning is a fundamental human right, education sector is one of the key pillars for the rapid growth of an economy of a country and is also known to drive the change in the mindsets of the citizens. Utilization of electronic technologies to access the educational curriculum outside of a traditional classroom has become a buzz in the education industry and caters to the need of modern-day learners. e-Governance in e-learning technology refers to incorporating the latest technology in academic affairs, introducing greater transparency and accountability in the delivery of public services to facilitate moral and material progress for all citizens of India. Ebix commands a change in the face of future India, works on implementing digital teaching methodology with multimedia content and various techniques.
Smart classes not only help in CCE (Continuous and Comprehensive Evaluation) but also improve learner's thinking and learning capability with active involvements. The use of Audio-Visual effects doesn't only advance learning ability and save time with the in-built library, also makes the study more interesting and impressive at the same time. Also, the Government of India has a major portion in enhancing or implementing the e-Learning, equipped with various smart solutions. It has commissioned various schemes to encourage the enrollment of children in basic primary education and provide them with qualitative education.
Our Services:
Smart Classes
Ebix is marking its footsteps in the field of Education by increasing learners' exposure to educational ICT through curriculum integration. Till date,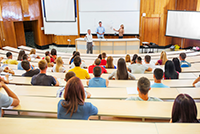 it has pronounced notable and positive impact on student achievement; especially in terms of knowledge and acumen advancement. Currently, we are doing the ICT work in multiple states with a high number of schools, working on the implementation of digital teaching methodology in classrooms. The objective is to have the right mix of conventional blackboard based teaching along with interactive 2D/3D multimedia videos, animation and digital courseware. The education department of government aims to impart standardized high-quality e-Learning for institutions in the city. Ebix has several educational projects in a pipeline to be introduced in numerous cities in India to advance learning and education.
LMS and LCMS
Aimed at the promotion of LMS and LCMS based industry specific learning programs, we aim to build and strive the change in the learning abilities
of scholars and working professionals in all facets of life. LMS, the 'Learning Management System' is a web-based technology used to plan, implement, and assess a specific learning process and provides an instructor with a way to create and deliver content, monitor student participation, and assess student's performance. It also provides students with the ability to use interactive features such as threaded discussions, video conferencing and discussion forums. LCMS stands for 'Learning Content Management System' that gives authors, instructional designers, and subject matter experts the means to create e-Learning content more efficiently.

Ebix is known for its efficiency to create, manage and deliver various e-Learning courses, using these software systems, we intend to help learners develop an advanced learning and have an access to the study material with the click of a button. With a glossary having off-the-shelf medical programs for specific learning needs, we have unique catalogs comprising of interactive patient education tools, custom e-Learning programs for Nurses, Paramedical staff and other medical practitioners in 70+ domains. Also, Ebix envisions in using LMS and LCMS learning platform to engage more consumers online with the most credible and complete collection of relevant and reliable health content available, integrated with multimedia visual learning assets.
Infrastructure to the Government bodies/Industries (ICT) – Computer Labs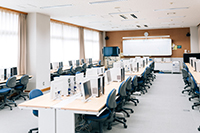 Focusing on the suitable spaces to learn, it features one of the most basic elements necessary to ensure an access to quality learning. Ebix has proposed to provide digital techniques to institutions and government bodies. The infrastructure up-gradation is not just limited educational forms, but ìt will also involve educators of all levels to enhance their teaching skills by training them to use interactive techniques on multimedia content.
Whenever institutions and schools feel the pressure of increasing enrollment or decreasing budget, manpower is there to help, it helps in training the ITS support staff and maintenance personnel to meet education industry's needs for flexible and high-quality staffing
Offerings:
eLearning with digital teaching methodology in classrooms of Government schools
Role-based and easy access of information available online
Overcoming distance and accessibility
Enabling lifelong learning to students using constructive models and digital techniques
High quality personalized and application modules over the Internet for all learners in higher education institutions
How is Ebix transforming e-Learning?
We aim to advance the teaching methodology and provide an easy access to learners and working professionals using digital techniques and multimedia content, allow the facilitation of electronic information flow through this model of education. Ebix wants to empower individuals and help in the development of the country into an education-savvy nation, where information and knowledge flow in walks of life.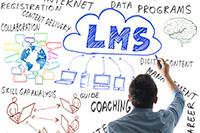 e-Learning in education has a variety of benefits – learning with the use of images not only enhances the retentive memory of learners, but also opens an opportunity for effective learning through interactive classes and enhance students' comprehension.
Ebix has a well-established business unit – A.D.A.M., devoted to provide extensive e-Learning in healthcare solutions. A.D.A.M. e-Learning specializes in the development of innovative, best-in-class, tailor-made, and off-the-shelf medical learning programs to meet the unique needs of the life science industry. These programs are highly cost-effective and are custom blended learning programs, designed to meet their client's educational goals. Also, the programs have been featured with mobile learning, where an individual can use portable learning options to understand a particular concept from anywhere around the world. Also, one can convert current Flash-based e-Learning programs to fully compatible iPad programs. Ebix has a vast experience of e-Learning (A.D.A.M.) from its global customer base, bringing transformation in education.