India is experiencing an unprecedented expansion of resources for health. The asymmetry in resource allocation (financial, human, technical) remains a major barrier to an efficient public healthcare ecosystem. Healthcare in e-Governance can identify the most promising entry points for system-level governance interventions to catalyze efficiency.
Digital is the new norm and the Government has embraced technology in driving change through various e-health initiatives and Digital Health programs, such as Health Management Information System (HMIS), Online Registration System (ORS) and SEHAT. With Mobile Health initiatives such as Vaccine Tracker, Swasth Bharat, ANMOL, Kilkari, India Fights Dengue etc., community-based programs at various levels have seen a fair amount of success. Telemedicine initiatives such as Ask a Doctor have opened new avenues for rural healthcare. Concepts like e-Pharmacy, e-Hospital, e-Diagnostics, e-Insurance and e-Referrals, have given a big boost to the health sector. Health care professionals (HCPs) and health workers can now stay abreast of industry developments with e-CME and tele-education. Programs like Mother and Child Tracking System (MCTS) and eMamta have shown how big a role technology can play to address the issue of IMR and MMR. Electronic medical record (EMRs) in place will improve the efficiency and delivery of healthcare services in the country.
Ebix has a comprehensive portfolio of health solutions for the whole continuum of care, which includes Ask a Doctor, Health Risk Assessment, SmartEngage, SmartCare and Anatomy Practice Online among others. Our leading-edge technology, strategic consultation, flexible implementation and strategic partnerships with industry-leading firms has helped us make a contribution in various health reforms and public health policy initiatives.
Our Services:
Technological integration recognizes the manner in which technology can play a central role across various levels of healthcare systems, including access, value, and cost. Some of the interfaces where Ebix can play a pivotal role are:
Health education and awareness
Public health learning, prevention, and wellness – Nutrition, physical activity, lifestyle changes, health hazards and immunization. We specialize in the development of innovative, best-in-class, custom, and off-the-shelf medical learning programs to meet the unique needs of doctors, nurses and other medical staff. Our health based content is widely used and is acknowledged amongst top 22 of top 50 global institutions. It has been designed to suit industry requirements to provide an insightful learning for the medical practitioners and keep them updated as per the latest trends and advancements in the medical industry. Our one such initiative being with Mamta-Tech on Proposals Received in Response to EOI ref no. NHM/IT/2015/3750 and the service to white labeled portals for health content to various organizations.
Diagnostics and point-of-care
Screening Camps – Community-based screening camps, especially in rural areas, is the key to bringing down mortality rates, which tend to rise due to seasonal outbreaks and other health conditions.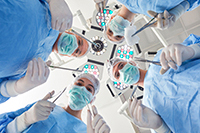 Point-of-care diagnostics – Time and data collation is an important aspect of diagnostics. Point-of-care diagnostics decreases the turnaround time for diagnosis, -ensuring in-time treatment. Further, cloud-based database ensures easy access and proper management of records.
Doctor and staff learning – Training and knowledge base of practitioners, role of medical staff, malpractices, recertification and licensure.
Therapeutics and rehabilitation
Healthcare facilities – Facility definition and certification, standards of staffing, standards of the physical facility, licensure, medical staff services, the role of non-medical staff; a complete set of solutions for the whole continuum of care that focuses on patient empowerment.
Pharma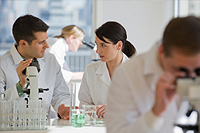 Pharmacist training - Standards, licensure and important requirements, we are a full-service provider of training and education with over 20 years of experience in medical education and sales training in the pharmaceutical sphere.
Ebix | A.D.A.M's interlinked e-Tools to Facilitate Healthcare 
General Health Risk Assessment (for determining health status, risk of developing the disease)

The General Risk Assessment covers important areas, such as diet, exercise, smoking, and blood pressure. The tool explains your risks and recommends necessary lifestyle changes. Lifestyle risk assessment tools include Lifestyle Career Burnout, Diet & Nutrition, Emotional Health, Fitness, Sleep Health, Stress and Anxiety and Work & Life Balance. Besides, there are conditions assessment tools that check for risk of developing medical conditions, such as allergy, cancer, depression, diabetes, heart attack, menopause, pain, and stroke.
Calculators for Fitness & Health (for practicing good health)
These are quick and useful tools to help you estimate your healthy body weight, target heart rate, amount of body fat and more. They will set exercise goals and educate you about your health. These include a BMI calculator, calories burned calculator, heart rate calculator, nutritional needs calculator, waist-to-hip calculator, risky drinking tool and a smoking cessation tool.
Smart Care (for healthcare info for hospitals and other healthcare facilities)

An information system that can help meet the organization's information needs. If used in a healthcare facility, it can help with patient registration, outpatient records, doctors' appointment scheduling, admission/ discharge/ transfer/ visit details, reporting of departments, operation theatre management and pharmacy.
Automating and bringing all the information under one umbrella can help handle a large number of patients, and thus provide better patient care. Doctors would have ready access to past episodes and information about the patient, thus ensuring efficient patient care.
Health Capsules (for patient education)

Health capsules are a tool to manage nutrition, and to prepare managed healthcare plans. It may include both general preventive education or health promotion and disease or condition-specific education. This is addressed through the Unique Catalog of Interactive Patient Education Tools.
Ask A Doctor (for advice and information)

This service gives patients quick and easy access to doctors in the form of tele-consultation, tele-medicine, specialist referral, and emergency healthcare information. It helps avoid confusion since patients get basic information from the doctor and do not have to rely on sources that contradict each other.
Smart Sites (for hospital services)

Smart Sites are web solutions to increase the visibility of healthcare institutions on the web, as well as offline.
Health Centers (for info, tools, videos, news, illustrations)

This tool makes the management of health centers and healthcare delivery easy. Health centers house health information, illustrations, tools, videos, and news related to key service lines, all at one centralized location.
Micromedex Medication Management (for information for patients and caregivers

Provide vital information related to medication, including instructions and drug interactions. It teaches patients how to take medication, what to avoid while taking it, possible side-effects, and how to avoid drug interactions.
CME programs (for medical practitioners)
Partnering with some of the best medical institutions in the world and with highly experienced clinicians and experts in their fields, this service provides a vast array of qualitative and evidence-based continuing medical education materials, in 40+ medical specialties and subspecialties,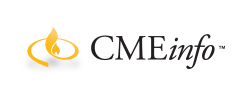 in the form of recorded medical conferences, board reviews, specialty reviews, journal summaries, clinical updates, and accompanying materials, which can be accessed online or in audio CD formats. It is specifically designed to address the needs of doctors, dentists, nurse practitioners, physician assistants, medical students, and allied health care providers.
DentalDecks (for career in dentistry)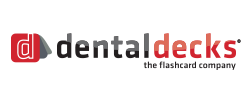 Promoting the simplistic way to prepare for Dental Board examinations, it provides students with a fast, convenient and proven way to prepare for dental examinations through online or physically available flash cards, covering relevant topics.
HMIS & e-HR Solution (for improving responsiveness to patient care)
A powerful, flexible and easy to use next generation solution that provides complete visibility to patient information across all points of care through paperless management, improve patient care by integrating the entire resources of a hospital into one software solution. It aims to increase operational efficiency and provide a secure, robust environment for transactions across all departments of the hospital and enable anytime and anywhere access to patient medical records, allowing a quick response time to the users. Our e-HR module follows a systematic collection of data to bring together clinics, hospitals, community care centers, health authorities, other healthcare professionals, to help reduce the costs of administrative and clinical transactions, improve responsiveness to patient care, enhance decision making process and streamline operations, while increasing the user satisfaction of all stakeholders involved.
Docplore (for searching and booking appointment with the doctors)
Shaping to move at the forefront of digital healthcare service in India, this tool empowers patients to search and choose the right health care giver within the preferred location and book confirmed appointments with the registered doctor.
How Ebix is transforming Healthcare?
Our experience and expertise goes beyond functional and geographical boundaries. In order to help the government reach the masses, to maximize the impact of national/state-level community programs and aid health systems that are under-performing due to lack of investment, poor design, and weak management practices. Ebix is willing to support in the whole continuum of care through its vast experience in multiple projects. Our team of qualified doctors plays a major role in the implementation of major health reforms and cater public health policy initiatives. We wish to accomplish this with our dedicated team of professionals, experts, medical practitioners, nurses, clinicians, biomedical and pharmaceutical specialists and health policy administrators.
Case Studies:
E-mitra : Click here for more details