Ebix Sports Ambassadors John Isner And Coco Vandeweghe Win Single And Doubles Titles At The Miami Open Masters 1000 Tournament
JOHNS CREEK, GA – April 2, 2018 – Ebix, Inc. (NASDAQ: EBIX), a leading international supplier of On-Demand software and E-commerce services to the insurance, financial, e-governance and healthcare industries, today announced that Ebix Sports Ambassador John Isner won the Miami Open ATP 1000 tennis tournament yesterday. Isner, an American is a part of Team Ebix, that today has three world ranked tennis players as its global ambassadors including the American Coco Vandeweghe, and the European Tomas Berdych. With this win, Isner's ranking will move to No.9 in the world.
In an internationally televised final watched by millions on ESPN2, Isner beat World No.4 German Alexander Zverev, to earn his first Masters 1000 title. Isner won the tournament having scored victories against three Top 10 players in the world including the World Number 3 Marin Cilic, World No.6 Juan Martin del Potro, and the emerging Korean sensation Hyeon Chung.
Team Ebix had a wonderful day at the Miami Open yesterday with another American and Ebix Sports Ambassador Coco Vandeweghe winning the Miami Open Women's Doubles title while teaming up with the Australian Ashleigh Barty.
Ebix Corporate Vice President – Investor Relations, Darren Joseph, said, "It was great to see the Ebix brand on National television being personified by two true champions who have the same winning attributes as the Company - persistence, passion and performance - that make Ebix the leading provider of on-demand software services around the world. We congratulate John and Coco for their fantastic performance at the Miami Open and look forward to them continuing their success in 2018 and beyond."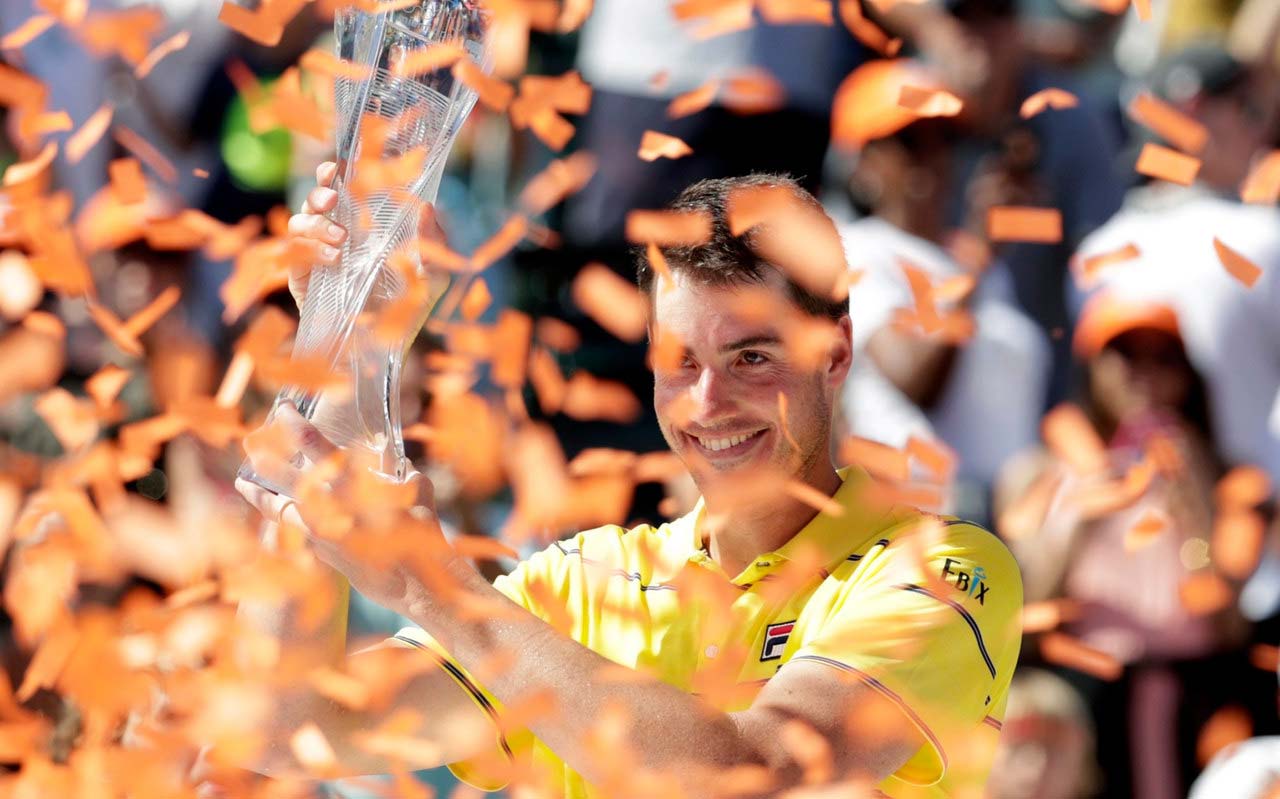 While serving as Ebix's ambassadors, both Isner and Coco partner with Ebix on customer engagement, advertising, social and marketing opportunities on and off the court. They also wear an Ebix branded patch on their athletic apparel as part of the partnership agreement.
About Ebix, Inc.
With 50+ offices across 5 continents, Ebix, Inc., (NASDAQ: EBIX) endeavors to provide On-Demand software and E-commerce services to the insurance, financial and healthcare industries. In the Insurance sector, the Company's main focus is to develop and deploy a wide variety of insurance and reinsurance exchanges on an on-demand basis, while also, providing Software-as-a-Service ("SaaS") enterprise solutions in the area of CRM, front-end & back-end systems, outsourced administrative and risk compliance, across the world.
With a "Phygital" strategy that combines 231,500 physical distribution outlets in many Southeast Asian Nations ("ASEAN") countries to an Omni-channel online digital platform, the Company's EbixCash Financial exchange portfolio encompasses leadership in areas of domestic & international money remittance, travel, pre-paid & gift cards, utility payments, etc., in an emerging country like India. EbixCash, through its travel portal Via.com, is also one of Southeast Asia's leading travel exchanges with over 110,000 distribution outlets and 8,000 corporate clients processing over 24.5 million transactions every year
Through its various SaaS-based software platforms, Ebix employs thousands of domain-specific technology professionals to provide products, support and consultancy to thousands of customers on six continents. For more information, visit the Company's website at
Contact:
Darren Joseph
678 -281-2027 or IR@ebix.com

David Collins, Chris Eddy
Catalyst Global - 212-924-9800 or ebix@catalyst-ir.com