Kings XI Punjab ropes in EbixCash as Title Sponsor for VIVO IPL 2020
Noida, India – October 22, 2019 – Kickstarting the VIVO Indian Premier League 2020 on a good note, Kings XI Punjab has announced EbixCash, India's largest financial exchange disruptor as their title sponsor. To begin with, the international cricket franchise and EbixCash have agreed on a three-year association. The team also welcomed former Indian cricketing legend Anil Kumble as the Director of Cricket Operations for the twelfth edition of the league.
EbixCash is a subsidiary of Ebix, Inc. (NASDAQ:EBIX) that today transacts $18 Billion in Gross merchandise value (GMV) on its platforms, besides being a end-to-end services market leader in the financial exchange industry.
To mark this momentous occasion and unveil the official jersey, Robin Raina, CEO, EbixCash was present along with Satish Menon, CEO, Kings XI Punjab, Anil Kumble, Director of Cricket Operations, Kings XI Punjab and Arshad Nizam Shawl, Director and Co-founder of Alliance Advertising and Marketing. EbixCash will be seen on the front of the KXIP's playing jersey for the next three seasons of VIVO Indian Premier League.
Speaking on the association, Robin Raina, Chairman, President and CEO Ebix stated, "EbixCash is thrilled to partner with Kings XI Punjab for the upcoming season. We see Kings XI Punjab as one of the strongest teams in the Indian Premier League and their passion, commitment and lively Punjabi culture are commendable. This partnership will provide us with a unique opportunity to connect with the audience across India."
Satish Menon, Chief Executive Officer, Kings XI Punjab, said, "We are pleased to associate with EbixCash and welcome them as our title sponsors. The VIVO IPL 2020 is a fresh start for us, and we believe that it will be a mutually beneficial and fruitful journey for both brands."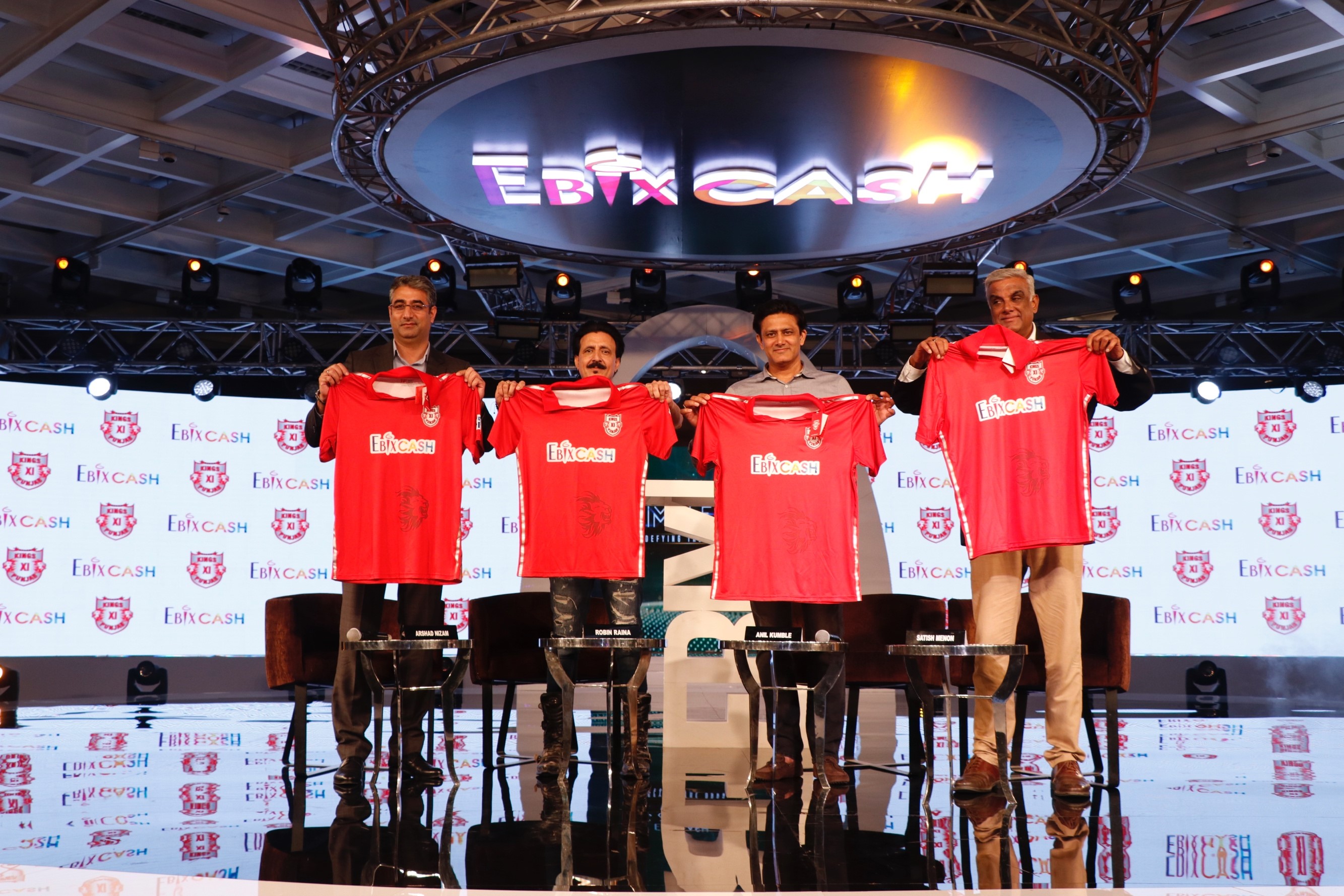 Commenting on Anil Kumble's appointment, Satish added, "We are excited to have Anil Kumble, a calm and composed legend as the Director of Cricket Operations. With his vast experience and knowledge of the game, we are absolutely confident that it will add great value to the franchise and provide a learning opportunity for the young and experienced talent in the squad."
Anil Kumble, Director of Cricket Operations, Kings XI Punjab said, "I am looking forward to work with the fantastic mix of young and seasoned players in the squad. Coming back as a coach of a cricket team again, I hope to make a significant contribution to KXIP's journey ahead."
The VIVO Indian Premier League (IPL) is an international professional Twenty20 cricket league played in India, with participation from international players across the world based on an NBA style bidding and auction process. The league is contested during April and May of every year by eight teams representing eight different cities in India. With a television audience of approximately 700 million that watched the IPL league on television in 2018, the VIVO IPL is one of the most-watched sporting events in the world.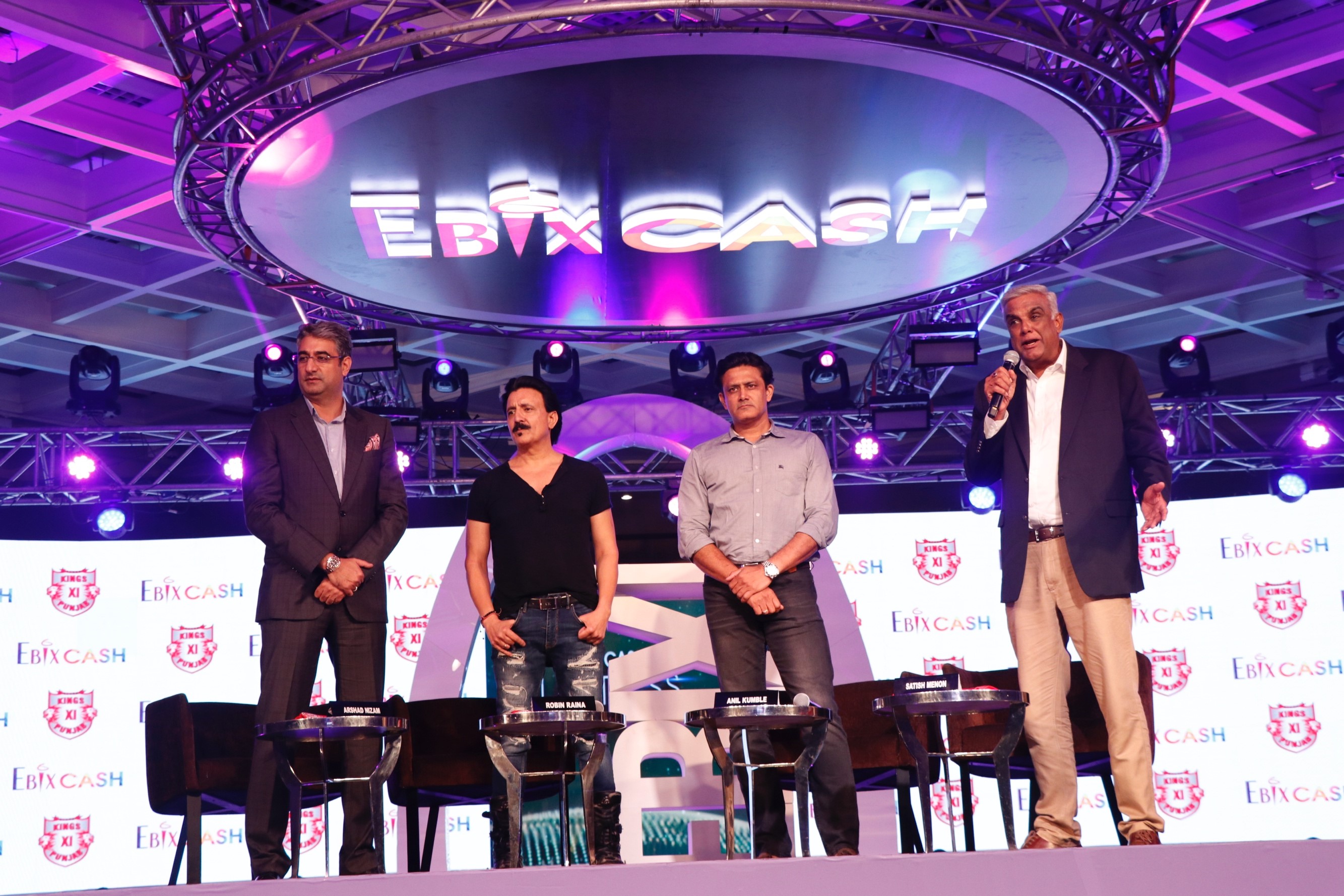 In 2010, the IPL became the first sporting event in the world to be also broadcast live on YouTube. The brand value of VIVO IPL in 2019 was estimated at approximately US$6.7 billion, according to Duff & Phelps. The hunger of ordinary Indians for cricket and especially VIVO IPL can be gauged from the fact that the number of Indians who watched VIVO IPL in 2018, were more than the number of Indians who voted in the 2018 general elections in the country.
About EbixCash
An Ebix (NASDAQ: EBIX) group initiative, EbixCash is emerging as one of the leading financial exchanges in India. With a "Phygital" strategy that combines 320,000 physical distribution outlets in many Southeast Asian Nations ("ASEAN") countries, to an Omni-channel online digital platform, the Company's EbixCash Financial exchange portfolio encompasses leadership in areas of domestic & international money remittance, foreign exchange (Forex), travel, pre-paid & gift cards, utility payments, lending, wealth management etc. in India and other markets.
EbixCash's Forex operations have emerged as a leader in India's airport Foreign Exchange business with operations in 32 international airports including Delhi, Mumbai, Bangalore, Hyderabad, Chennai and Kolkata, conducting over $4.8 billion in gross transaction value per year. EbixCash's inward remittance business in India conducts approx. $6.5 billion gross annual remittance business, confirming its undisputed leadership position in India. EbixCash, through its travel portfolio of Via and Mercury, is also one of Southeast Asia's leading travel exchanges with over 2,200+ employees, 212,450+ agent network, 25 branches and over 9,800 corporate clients; processing an estimated $2.5 billion in gross merchandise value per year. The Company has also signed an agreement to acquire Yatra Online subject to regulatory and Yatra shareholder approvals. Once that acquisition is complete, EbixCash's leadership in the corporate, B2B, luxury and MICE businesses would be unrivaled by any player in the Indian markets.
CONTACT: